Security education via security features
Let's talk about UX and security – those two may not seem to go hand-in-hand. Some services encourage users to enable additional protection, some have it enabled by default and some have these options hidden deep in the menu.
I will compare security features available for users in multiple services including telecommunication providers, online banking and cryptocurrency exchanges across Poland, Australia and USA:
– PINs, passwords and authentication in mobile apps,
– fine-grained payment limits for cards and wire transfers,
– 2-factor authentication,
– geolocation security,
– biometric authentication,
– process authorisation.
How to introduce security features to make users adopt them easily? How to educate users by allowing them to set up additional security mechanisms?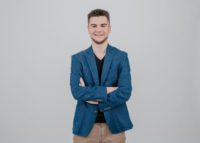 Jakub Kałużny Principal IT Security Consultant
Head of Secure Development