Single Sign-On penetration testing

Recent years have brought many changes in the Identity and Access Management (IAM) department. More and more organizations implement Single Sign-On (SSO) at a large scale, moving towards the Zero Trust model. We see how complex identity management has become; therefore, we have specialized in SSO penetration testing.
Considering the diversity of Single Sign-On implementations and deployments, we deliver a full range of penetration testing services aimed at different business use cases – both greybox and whitebox.
Single Sign-On is not secure by default
SSO solutions such as OpenID Connect, OAuth, and SAML can provide a simple and secure way for users to access multiple applications and services using a single set of credentials. They also allow for streamlined adaptation of MFA and passwordless authentication to further protect users' accounts.
However, if implemented or integrated incorrectly, Single Sign-On authentication can also pose a great threat. As the mechanism guarding the gates and doors of your organization, if bypassed, can lead to gaining unauthorized external access to all your apps, data, or resources. The integrations make your systems interconnected; it is crucial to make sure that these connections are properly secured.
SSO security test scenarios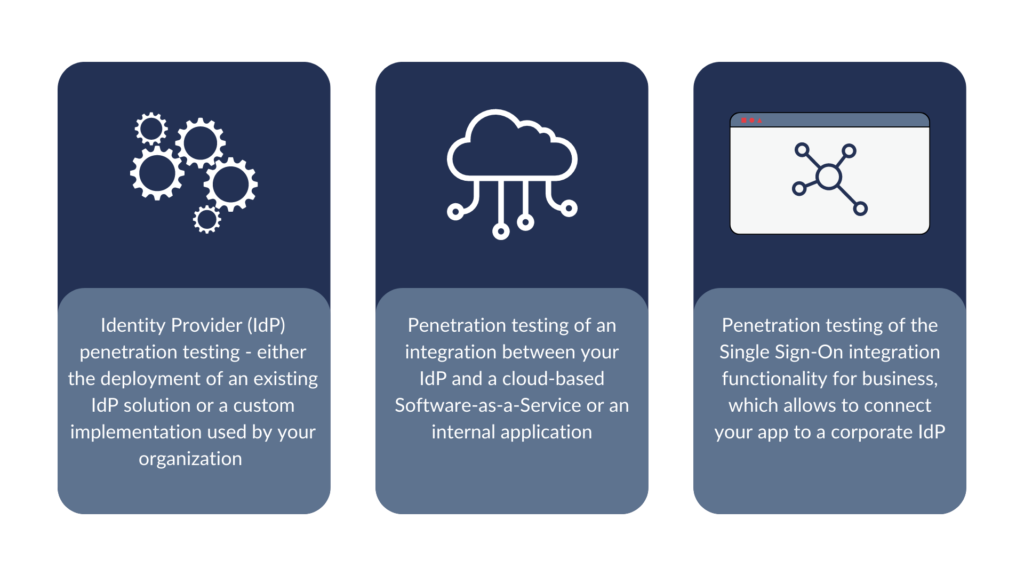 During the penetration testing, we will consider threats, such as full or partial authentication bypass, account takeover, and privilege escalation. We will also include recommendations that will further secure your application.
The scope of the test varies depending on the technology used and the number of applications integrated with your Single Sign-On provider. As each implementation is different, we approach every project individually.
Ready-to-implement security recommendations
The SSO security test, compared to application security tests, covers the entire organization and the multitude of systems used in it. In the test report, you will find not only the identified vulnerabilities, but above all, recommendations on how to deal with them in a structured manner.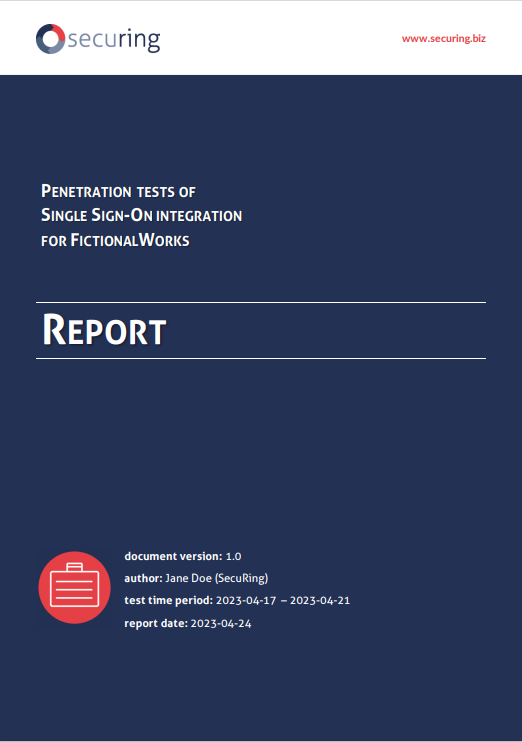 Assistance in secure Single Sign-On implementation
Whether you plan to integrate SSO at your organization, or you are a software house adding such a feature for your client – we have expertise in a wide range of use cases:
SAML, OAuth, and OpenID Connect – we have tested many different solutions, including custom and hybrid ones,
Multiple Identity Providers, such as Azure AD, AWS, AD FS, Keycloak, Okta, etc.,
Stateful and stateless session mechanisms (including JSON Web Token),
Multi-factor authentication and passwordless,
SCIM (System for Cross-domain Identity Management) and Just-In-Time Provisioning.
We also provide consultations for the existing Single Sign-On solutions, during which we can identify the possibility for improvement of your Identity and Access Management security together. You can find articles on this subject in our knowledge base, including SAML – what can go wrong? Security check or Which Single Sign-On (SSO) is for you? SAML vs OAuth vs OIDC.
How to get a quote for your project?
If you would like to discuss the security of your authentication schemes or the Single Sign-On in your company, contact us by booking an appointment with our specialist or just write to us using our contact form.